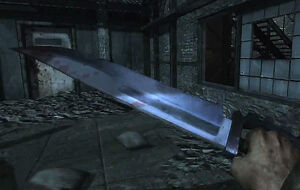 The Bowie Kife is a weapon featured in Zombie mode. The Bowie Knife can be bought off the wall in Der Riese, Kino der Toten, "Five", Moon, and Shangri-La for 3000 points.
The Bowie Knife replaces the player's original knife and cannot be removed unless killed in Kino der Toten and "Five". It does approximately 60 times the damage of the normal knife, and about 90 times the damage of a regular submachine gun. It costs 3000 points.
Appearance: The Bowie Knife is very large, possibly one efoot in length, and is anywhere from 3 - 5 inches deep. The Bowie Knife also has a large hand guard, with brass knuckles wrapped around it (commonly known as a "knuckleduster" grip).
These sorts of knives were used commonly during first and second World Wars, designed for punching an enemy before stabbing them. The Bowie Knife weapon is similar to the trench knife, as well as the original design of Jim Bowie's combat knife.
Locations
Edit
Der Riese
Edit
The Bowie Knife in Der Riese is located on the wall ahead once the door to teleporter room C is opened.
Kino der Toten
Edit
The Bowie Knife in Kino der Toten is located in the theatre directly beside the Jugger-Nog machine.
The Bowie Knife in "Five" is located inside the back lab room.
Shangri-La
Edit
The Bowie Knife in "Shangri-La" is located in the power room on the opposite side of the room to Spikemores.
The Bowie Knife in Moon is located in the room which is just past the pyramid in the power room, on the wall above the stairs. A player must jump to it to buy it off the wall.
If a player has purchased the Bowie Knife in Der Riese, they will have it for the rest of the game, even if they are killed.
The Bowie Knife is an instant kill on zombies up to and during round 9, and an instant kill of Nova 6 crawlers until round 13.