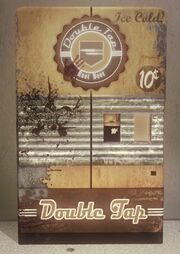 Double Tap (also known as Double Tap Root Beer) is one of the available
Perk-a-Cola machines
available in
Zombie mode
. It can be purchased for 2000 points, and is featured in all zombie maps excluding
Nacht der Untoten
&
Ascension
. The power must be turned on in order to purchase Double Tap (along with any other perk).
Double Tap is the least popular perk as it can quickly run a weapon out of ammunition. It is recommended to purchase Jugger-Nog or Speed Cola before this perk.
Locations
Edit
Found upstairs on the right side (German side).
Shi No Numa
Edit
Found inside one of the huts. It will spawn randomly.
Der Riese
Edit
Found upstairs (on the right side of the bridge).
Kino der Toten
Edit
Found in the outside alley; you will first see it when you are opening the door in the room with the MPL.
Found on the second level of the pentagon where MP5K and PM63 is, to the right of the elevator when you get out.
"Call of the Dead"
Edit
Found at the bow of the ship (in the same area where the Claymores are found).
"Shangri-La"
Edit
The Double Tap machine switches locations with Stamin-Up, Deadshot Daiqiri and PhD Flopper.