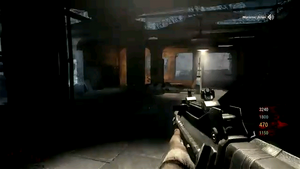 Nacht der Untoten (German for "Night of the Undead") is a zombie map taken from Call of Duty: World at War and altered to fit the setting of Black Ops. It can be obtained along with Verrückt, Shi No Numa and Der Riese by purchasing the Hardened and Prestige editions of Call of Duty: Black Ops.
Characters
Edit
As opposed to World at War's Nacht der Untoten, Black Ops' edition features the playable characters from Shi No Numa and Der Riese:
Nacht der Untoten is set in a run-down building. The building is based upon a building found in the campaign level "Hard Landing" in Call of Duty: World at War. This building has no relevence to the Black Ops campaign as Nacht der Untoten was directly taken from World at War. With the new patch of 27th september they made extra details with batterys and radios. Maybe a new easter egg?
Perk Machines :
With the new patch of 27th september they added Mule Kick (a three gun perk) to Nacht Der Untoten.
Mystery Box
Edit
The Mystery Box is present in Nacht der Untoten. The box can used to obtain weapons not available from the wall. As with all maps, it costs 950 points to use the box. The box is located in the Help room. The Teddy Bear is not present in this map.
Power-Ups
Edit
In Nacht Der Untoten there is only one perk machine which is Mule Kick
Nacht der Untoten is the smallest zombie map.
Nacht der Untoten is the only map without Juggernog (except Dead Ops Arcade).
Normally there would be a perk called : Power, that would restore (a part of) your. They cancelled it just before it came out with no reason.
Nacht der Untoten before it came "The Zombie Mode" was the last mission where they said : You defeated them but they weren't dead. But it had a lot succes and they made new zombie maps with the map packs.